Concrete Driveway Cost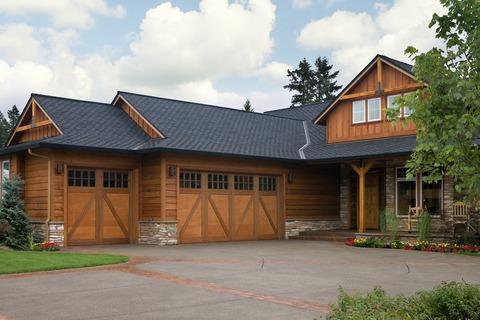 In terms of materials, concrete driveways cost around $3,900, or about $6 per square foot for a standard 38 by 16-foot driveway. The cost of concrete driveway pavers will increase for a driveway that is stamped and colored, assuming you want to customize the looks more.
Concrete is probably the most popular driveway material and for good reason. It's extremely durable and lasts a long time with little need for maintenance save for repairing cracks or stains from oil and gas.
Pros and Cons
Pros: Durable, lasts more than 40 years, doesn't need any kind of sealing, comes in a multiplicity of types and color options, no resurfacing
Cons: cracks in freezing weather, expensive, difficult repairs
Asphalt/Blacktop Driveway Cost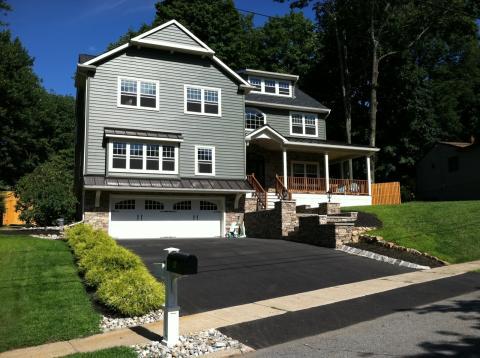 An asphalt or blacktop driveway, in comparison, is the more affordable option that can help keep driveway installation costs down. Use our asphalt driveway cost calculator to get a better idea of how much this project will cost you.
Many homeowners aren't thrilled with the way that a blacktop looks and that it can't be customized. There are also downsides to asphalt if you don't want to keep up with regular maintenance like resealing and resurfacing. However, it does handle changes in temperature like freezing and high heat far better than concrete, and it takes far less time to settle in and dry than concrete. Expect several hours as compared to several days.
Pros and Cons
Pros: costs less than concrete (about $3 to $4 per square foot), easy repairs, dries faster for immediate use, adapts to different temperature changes, lasts about 20 years
Cons: only comes in black, less durable, requires resealing every 3-5 years and resurfacing regularly
Heated Driveway Cost
Heated driveways can be essential to homeowners who live in northern areas with a lot of snowfall and don't want to spend an extra half hour shoveling their driveways. Having a heated driveway saves you time and effort. A heated driveway means getting a radiant heating system installed underneath it, which averages around $4,130. Installing a radiant heating system also means pulling up the driveway, so be sure to park your car on the street if you want to access to it during the process.
Pros and Cons
Pros: melts snow, doesn't require separate electrical wiring
Cons: will increase utility bills during the winter, might require re-installing driveway, only useful for winter months
A heating and cooling professional will come out to your home and have to pull up your driveway to install the system, so don't park your car in the garage. Radiant floor heating systems will be controlled on the same circuit as your home wiring, so you'll have a switch you can flip inside and watch as the driveway melts. You might need to check with an electrician and see if your home wiring can handle the radiant heating system before having it installed.
Gravel Driveway Cost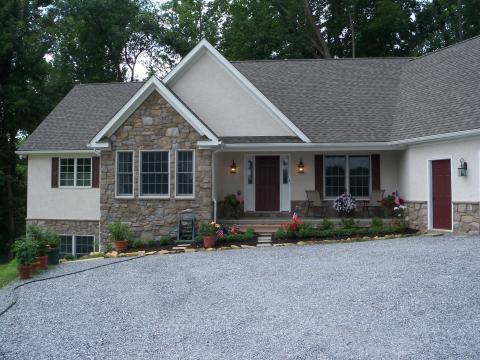 Gravel driveways cost the least, averaging around $1,470. They are popular in rural areas and often lead to concrete floors. They can be made from various items like rock, sand and clay. It compacts better than regular rocks which makes it more stable for cars. While laying rocks or a mixture is easy for installation, it will require regular maintenance. Gravel driveways can last around a century with maintenance because it doesn't crack, sink or soften -- just moves. You might need to relay portions of the driveway if it moves or becomes too low. Stabilizers are one option to keep the gravel in place, but this will increase the cost of a driveway.
Pros and Cons
Pros: easy to install & maintain, doesn't crack or sink, matches different house styles
Cons: easily moves, doesn't handle snow well, very dusty and requires regular maintenance
Driveway Pavers Cost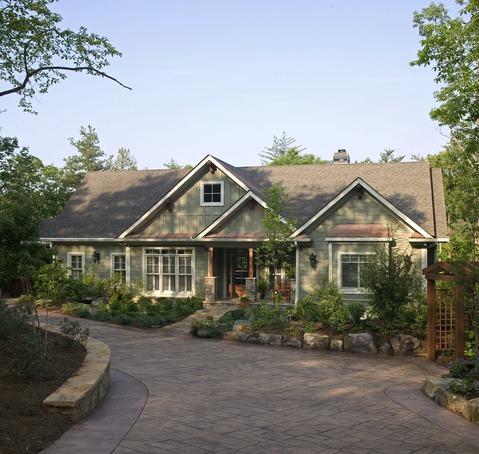 Concrete driveway pavers are another option for homeowners, though it can be quite expensive, falling between $5 and $20 per square foot to install. This is because they must be installed by hand, so it costs extra for the materials and labor to lay them. However, this is an attractive option and will increase your curb appeal, which could offset some of the initial cost of the pavers. Driveway pavers come in a variety of textures and colors, so you can lay pavers to match your home perfectly. Maintenance depends on if the pavers break or crack under car pressure, which will result in replacing them.
Pros and Cons
Pros: can do DIY installation, durable depending on material, can last a long time
Cons: expensive for a pro installation, requires regular maintenance, requires landscape changes for a flat surface
Brick or Cobblestone Paver Driveway Cost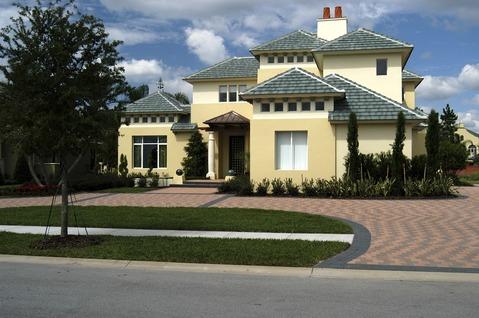 Brick or cobblestone paver driveways are beautiful, enduring options for homeowners who need a strong driveway that's not black or grey. On average, installing brick or cobblestone pavers can cost between $10 to $70 per square foot. Homeowners can pick bricks that come in many textures, along with either in a wide variety of colors. Since installation is done by hand, the total cost of installation will need to have labor factored in, unless you decide to install it yourself. Homeowners should also keep maintenance in mind. Akin to other types of pavers, maintenance will depend on whether any of the blocks shift or break over the lifetime of the driveway. They will need to be replaced in such instances, so be sure to buy extras. It's also a good idea to wash the driveway once or twice a year and seal the bricks or cobblestones to avoid cracks or other problems so it lasts the maximum of 25 years.
Pros and Cons
Pros: can be a DIY installation, comes in a variety of textures & colors, easy maintenance, lasts 25 years
Cons: will need to be sealed & washed, labor-intensive adding onto total cost, sand installation necessary for laying the bricks or cobblestones
Additional Cost Factors
There are several additional factors that can affect the overall price of your driveway installation. Some of those factors include.
Size/Length ? The length and width will, of course, affect the amount of material and labor needed.
Shape ? horseshoe or circular driveways are a popular option for many homeowners. Their inclusion could double the surface area, resulting in costing you twice as much as a straight, more traditional driveway.
Terrain ? The presence of many drains, grading, or other landscaping obstacles can affect the price of the project. It?s important to bring in a professional to assess your land in the planning phase as complications during installation could result in additional costs, as well as a driveway that takes a sloped or curved shape you didn?t plan for.
Custom Designs ? consult a pro for cost implications when considering special designs or ornamentation.
Driveway Replacement & Removal
If you want to install a new driveway, you will need to remove the old one as most materials can't be laid over the old kind. A driveway professional will charge extra to remove the existing driveway, especially if it involves pulling up and cracking a concrete or asphalt driveway. Although removal shouldn't be too expensive, it is a necessary part of the job, so be sure to factor that in when budgeting for the cost of a driveway.
Resurfacing
Resurfacing involves hiring a professional to scrape off the top, damaged area of the driveway to replace with a new coat of asphalt or concrete. This is a popular and more affordable alternative to repaving when age or the elements have caused cracks that have spread to about a quarter of the driveway. Resurfacing provides a fresh look that will continue to last for many years. The project will run you a fraction of the price of replacing at between $1 - $3 per square foot.
For some, a driveway is just a way to drive to the garage. For others, it's a prominent viewpoint in front of the house that needs to have the same curb appeal as the yard or exterior of the home. Be sure to speak with at least three contractors as you plan your project to ensure you choose the material and placement that?s right for your home.